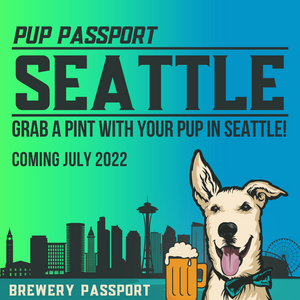 Discover Dog-Friendly Breweries in Seattle | Coming Soon
We're Pup Passport, Portland's dog-friendly brewery passport. We help dog owners find places they can grab a pint with their pup, and our members get exclusive discounts at each spot on the passport too. We've had a blast working with 50 Porland-area breweries this past year, and decided to create a passport program in Seattle this summer!
The main idea is that it's kind of a pain in the butt to figure out where you can bring your dog with you. That's where Pup Passport comes in. Our digital passport features a map to help you find the closest breweries and to help you plan our your trips this summer. We really enjoy hitting the breweries with our dog Riley after hikes, paddle-boarding, camping, and other outdoor activities.
So far we have about 15 breweries on board and expect to pick up another 10 to 15 once we go live. Breweries include Great Notion, Hellbent, Lantern, Bainbridge, Locust, Seattle Cider, Fair Isle, Figurehead, and more!
We're aiming to launch the Seattle passport in early July - date TBD. Follow our instagram for the latest news about our launch. Stay tuned!
---